Privacy Policy
Gauge your performance in CLAT 2020 with CLAT exam analysis right after the exam!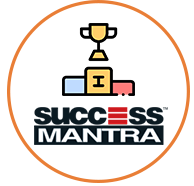 This Platform is owned by www.successmantra.in and www.easevidya.com (along with its subsidiaries called "Company"), operating under the name of Success Mantra Smart Coaching. The terms "We"/"Us"/"Our"/"Company" individually and collectively refer to Success Mantra Smart Coaching and the terms "You" /"Your" / "Yourself" refer to the users.
This privacy policy governs your use of all the associated applications, products, websites and services managed by The Company.
This Privacy Policy is an electronic record in the form of an electronic contract formed under the Information Technology Act, 2000 and the rules made thereunder and the amended provisions pertaining to electronic documents / records in various statutes as amended by the Information Technology Act, 2000. This Privacy Policy does not require any physical, electronic or digital signature.
This Privacy Policy is a legally binding document between you and the Company (both terms defined above). The terms of this Privacy Policy will be effective upon your acceptance of the same (directly or indirectly in electronic form, by clicking on the I accept tab or by use of the website or by other means) and will govern the relationship between you and us for your use of all the associated applications, products, websites and services managed by The Company.
The Application/Website/Services/products obtains the information you provide when you download and register for the Application or Services or products. When you register with us, you generally provide (a) your name, age, email address, location, phone number, password and your ward's educational interests; (b) transaction-related information, such as when you make purchases, respond to any offers, or download or use applications from us; (c) information you provide us when you contact us for help; (d) information you enter into our system when using the Application/Services/products, such as while asking doubts, participating in discussions and taking tests. The said information collected from the users could be categorized as "Personal Information", "Sensitive Personal Information" and "Associated Information". Personal Information, Sensitive Personal Information and Associated Information (each as individually defined under this Information Technology (Reasonable security practices and procedures and sensitive personal data or information) Rules, 2011 (the "Data Protection Rules")) shall collectively be referred to as 'Information' in this Policy.